Lisa Ormsby
Carina Orvan
Joon-Hee Park
Monica Paterson
Rose Petterson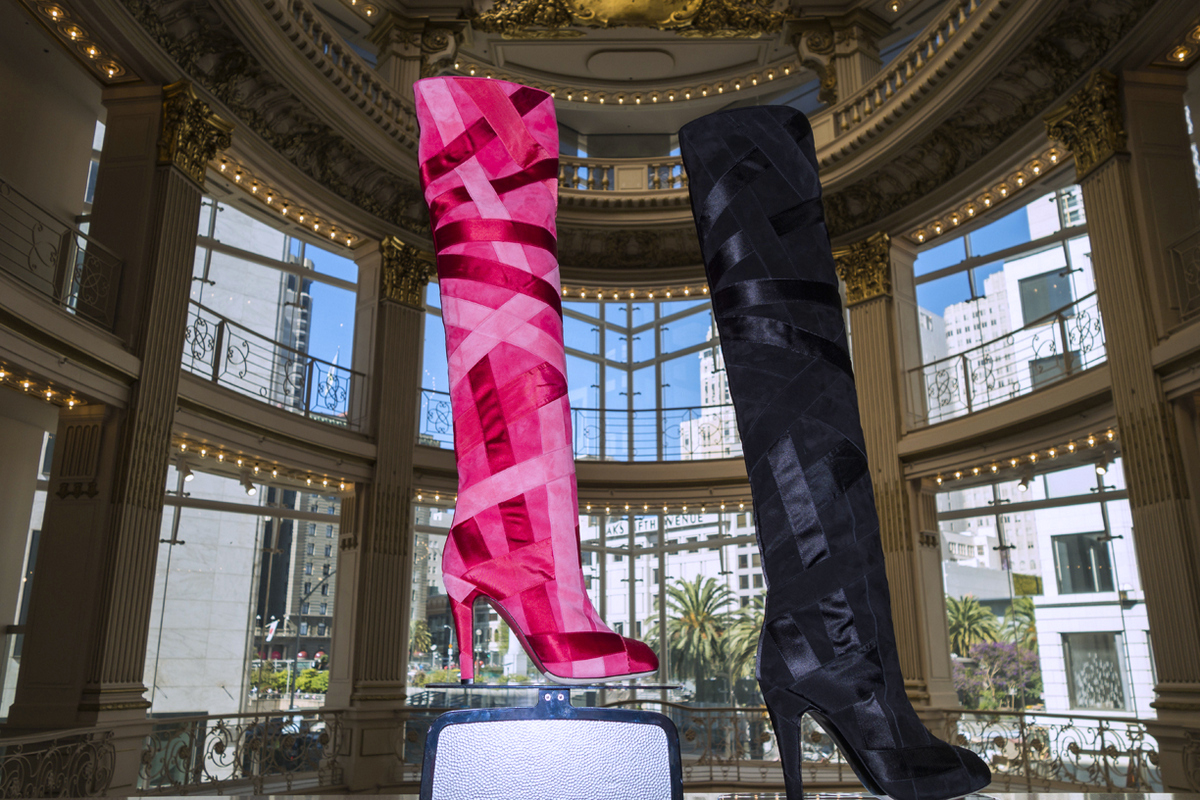 Bertie Plaatsman
Grace Popplewell
Dean Proudfoot
John Pule
Robin Ranga
Ben Reid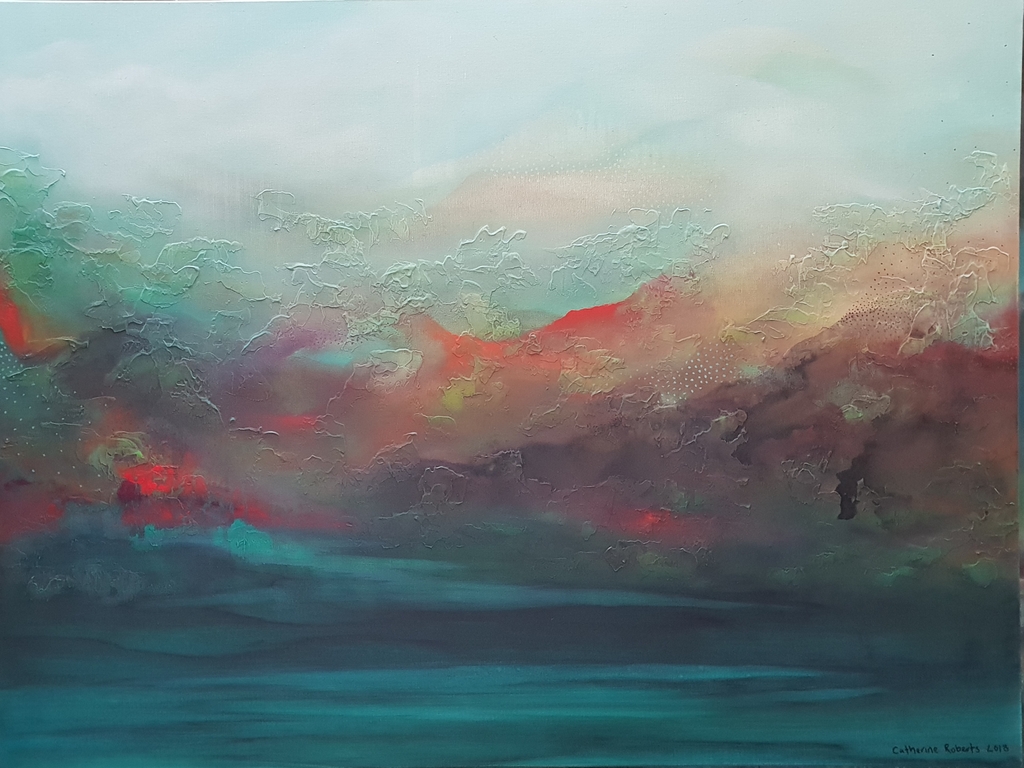 Catherine Roberts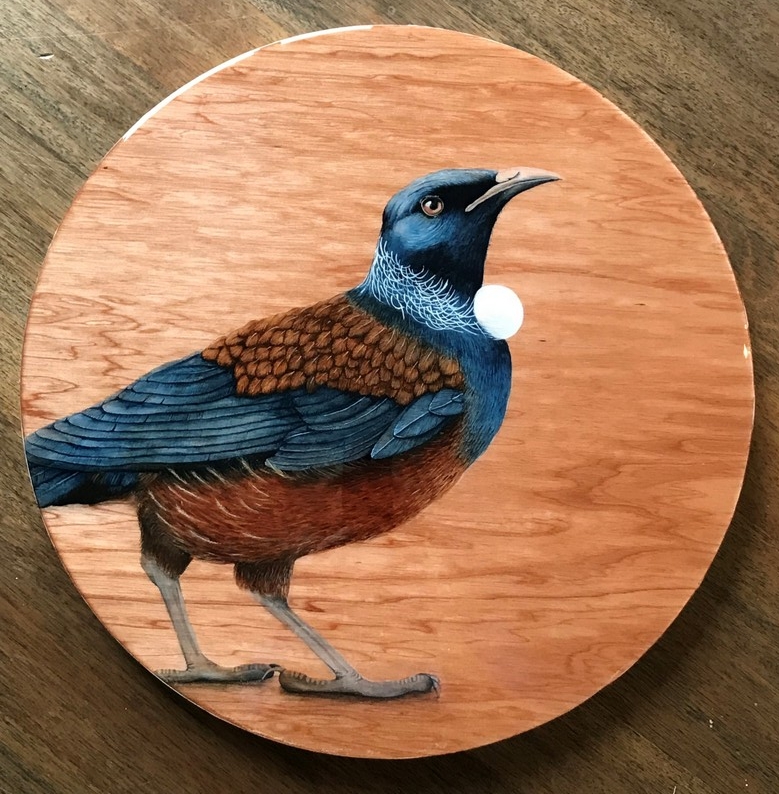 Bec Robertson
Rush
Rachel Rush
Lisa Ormsby
Lisa Ormsby is an established artist based in Otorohanga who has exhibited in group exhibitions and art events throughout New Zealand since 1998. She shares her passion for art with her four children and also enjoys networking with fellow artists.Lisa specialises in acrylic and mixed media, striving for a balance between evolving her work and maintaining her own sense of style and uniqueness. She uses nature as a reference point and inspiration, offering us an opportunity to see the natural world through her eyes - where the beauty of the rock outshines the diamond.
Carina Orvan
Carina Orvan is a self-taught artist, based in Auckland, working with acrylic on canvas. Carina first started painting in her late teens as an emotional release, which has lit into a passion she holds close to her heart. Carina experiences emotion on a deep level then this translates through her work. She has dabbled in painting all different subjects but feels her talent shines through the most when she paints animals. Her main focus is on bringing forth the animal's character and making that emotional connection between subject and viewer. Carina releases progress photos of her work on Facebook, allowing people to follow her through the process of each painting and become involved in the adventure. Carina's work is available through art shows around Auckland, as well as through her Facebook page.
Joon-Hee Park
Born in Seoul, South Korea, Joon-Hee Park emigrated to New Zealand in 1993, and has completed a Bachelor of Fine Arts and a Master of Fine Arts at Elam, graduating in 2003. She currently lives in Auckland.As a child, Park spent many happy hours in the studio of her father who was a well-known surrealist painter. Surrealism is a strong influence in Park's own work, which she considers a process of exploring and mapping her psyche.Park draws from a variety of sources - memories of a childhood split between two cultures; favourite toys, traditional festivals and Korean sweets; revisited dreams, memories and events; and the bittersweet vagaries of adulthood. Funny and lyrical, strange and sad, Park's surreal and dream-like paintings invoke the sharp tang of memory and a lost past.
Monica Paterson
Monica Paterson has an interest in figure and portraiture in her painting and drawing, weaving this together with a desire to be connected to her Samoan genealogy. Her work references family history and spiritual beliefs, and draws from her background in computer graphic design, illustration and fabric design. After a period away from the arts whilst raising her family, Monica has returned to painting regularly in recent years. At the beginning of 2017, Monica joined the Corban Estate Arts Centre as an artist in residence where she painted as she was inspired.
Rose Petterson
Rose Petterson lives in Oakura, Taranaki with her young family. She graduated from the Otago Polytechnic School of Fine Art in 2006 and has been exhibiting her work nationwide since then. She sculpts using a variety of mediums from wax and plastic to steel and wood. Often inspired by the architecture of gothic cathedrals and the Victorian era, her work confronts the duality of opposites; it is perfectly imperfect. It is solid yet transparent, it is light and it is darkness. It is through a gothic framework that this contradiction can be placed. The gothic as a genre is a fine balance of oppositions - it appeals to the mysterious and what is unknown.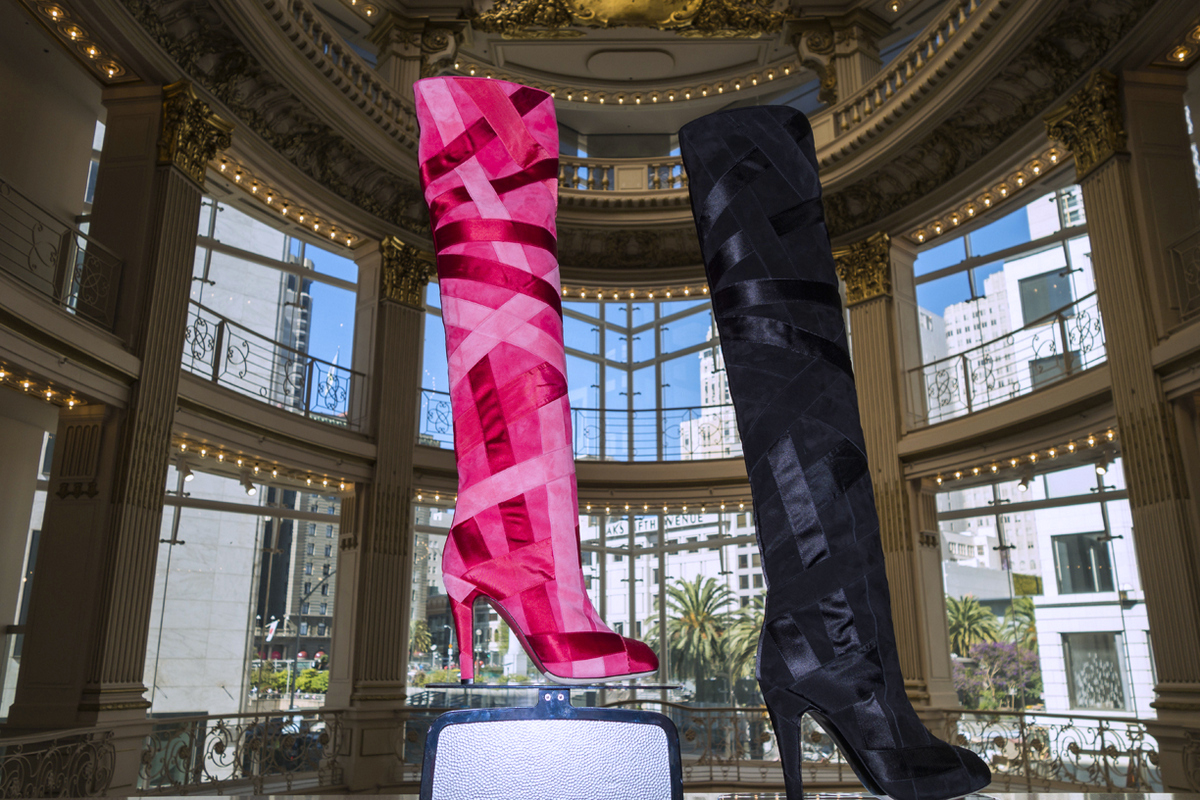 Bertie Plaatsman
Bertie Plaatsman is a photographer and awarded documentary film-maker, based in Auckland. She is interested in how people live their everyday lives, and their relationship with their environment and objects around them.Plaatsman's strong sense of curiosity shows in the variety of subjects in her work. Her recent project 'Shopping Spree' reflects her love of colour and collage. On her regular travels, she takes her camera on a shopping spree to look at what is available, and to feel the atmosphere. It helps her to get a sense of the place and the people which inform her work.
Grace Popplewell
Grace Popplewell is exhibiting in the Mount Albert Grammar School Art Show for her third year, but this time as an Albertian studying Communication Design at AUT. In last year's show, she placed 1st in design among the students and sold one piece to the James Wallace Arts Trust collection. Grace's digitally illustrated pieces evolve from sketches, and are saturated with bold, striking colour and style reminiscent of the 1920s. Her goal is to let her work speak of the enjoyment she has in creating it.
Dean Proudfoot
Dean Proudfoot's paintings have the common thread of exploring and celebrating our culture and identity - who we are and where we have come from. Recently he has returned to themes of nostalgia. An award-winning freelance illustrator with 20 years' experience, Dean has worked with a diverse range of clients both in New Zealand and internationally, while also developing a career in the fine arts. His work appears in a number of prestigious private collections including the James Wallace Arts Trust, the collection of Dunbar Sloane Snr and the Museum Art Hotel. Dean is a Wellington based artist and is represented by Smyth Galleries in Auckland.
John Pule
John Pule was born in the village of Liku in Niue, and immigrated to New Zealand at the age of two in 1964. Pule first visited Niue as an adult in 1991 and has since returned a number of times. This triggered a strong interest in the history and mythology of Niue which continues to inform his work to this day. Pule is an accomplished painter, printmaker, poet and writer. His work is highly inventive, particularly in its adaptation of traditional Pacific art forms. It is also challenging and provocative in content John Pule is a diverse and talented print-maker, working in lithography, etchings and wood-cuts alongside his painting practice. This medium has often been a platform for Pule to incorporate his poetry and writing practice into his work as a visual artist.
Robin Ranga
Robin Ranga achieved her Bachelor of Visual Arts in 2005. She is inspired by nature's design and endurance, and how subliminal forces impact on social, cultural and environmental perspectives. Using a variety of mediums she strives to express and share empathy for the viewer to recognize universal compassionate matters.Robin was invited to visit and exhibit as a guest artist at the Nongyuan International Arts Village, Chengdu, China. The rich experience of sharing ideas and expressions with other artists - the privilege and honour to be immersed in their culture and participate at the 2016 Image & Imagination exhibition is a highlight in her art career. She was also recognised in the 2017 Waiclay National Ceramic Awards.
Ben Reid
Ben Reid is a Hanmer Springs based printmaker whose interest lies in the fragile relationship that New Zealanders have with the natural environment.He brings together a myriad of references that draw attention to the complexity of a relationship with the natural world that has been both exploitative and beneficial to humanity. He recognises there are no easy solutions yet his images retain a faith in the redemption of this relationship with nature.He is a graduate of Christchurch Polytechnic's Visual Arts degree course and past assistant to master printmaker Marian Maguire at PaperGraphica. He exhibits on a regular basis throughout Aotearoa.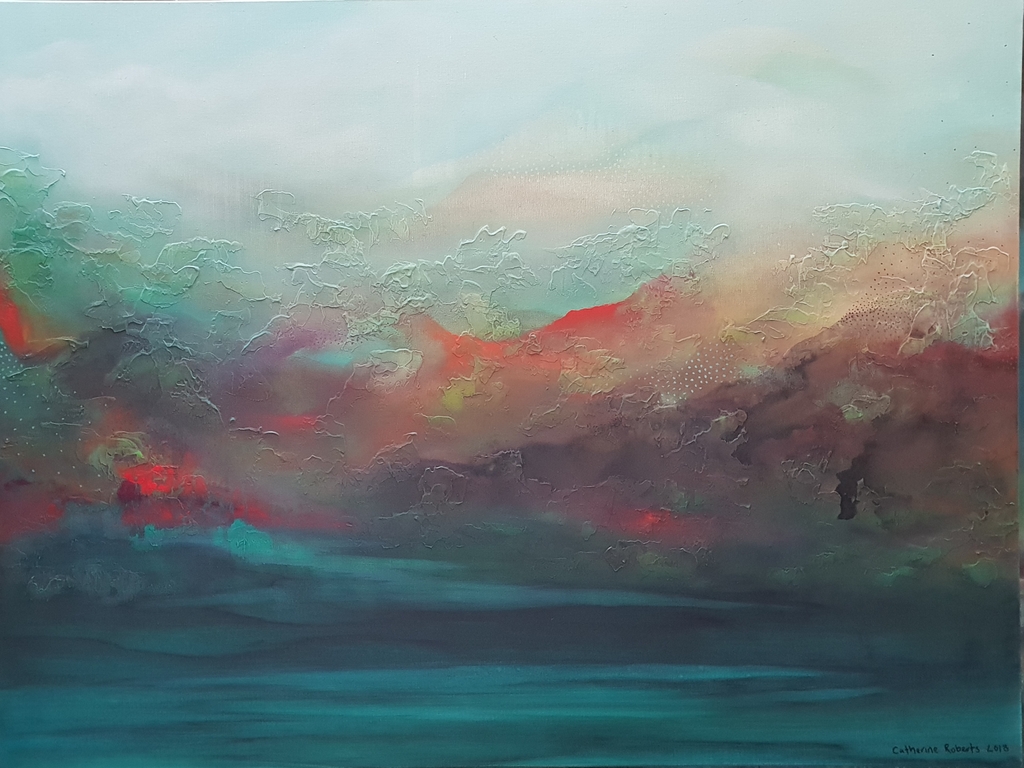 Catherine Roberts
Catherine Roberts lives on the south coast of Wellington, where she has painted her semi-abstract landscapes for 18 years. Painting is in many ways an organic process for Catherine. The inspiration comes from our environment, in particular New Zealand forest and bush scenes. The execution of each piece usually evolves from layers of texture, paint and lacquer, resulting in an 'organic looking' piece of work. No perfect lines or brushstrokes to be seen. Each piece of work starts with an idea and an open-minded vision. Due to the style and process of Catherine's painting techniques, some of the movement of paint and colour distribution is out of her control, and she 'lets nature take its course'. Catherine's work is available in art galleries throughout Aotearoa.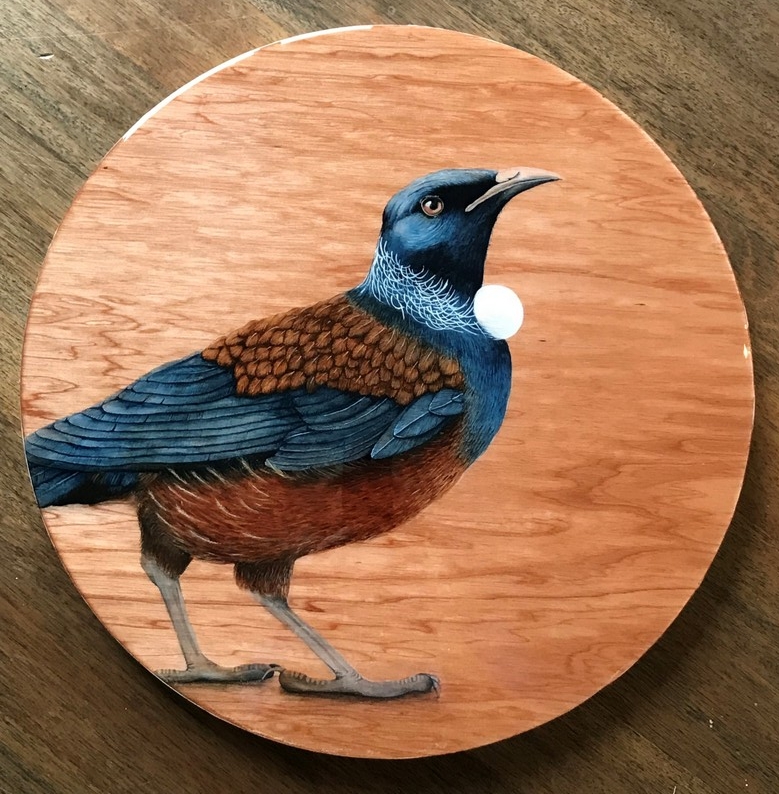 Bec Robertson
Based in Orakei, Bec Robertson is a mixed media artist, who primarily uses pen, ink, watercolour paint and pencil. She has always drawn, however she started seriously exhibiting in 2013. Since then Bec has won the mixed media category at the Royal Auckland Easter Show 2014 and has had other category placings in subsequent years.Bec has two main styles which she alternates between depending on her mood or current commissions; the humorous Peacock works and the more serious detailed ink work. She has recently started to explore resin and wood as a medium and is enjoying the creative process involved in preparing the wood through to sanding and finishing. Bec has works in collections across New Zealand, Australia, USA, United Kingdom and Scandinavia.
Rush
RUSH has evolved from Rachel Rush's love of all the amazing street art around the world - from the alleyways of Melbourne, the surviving slabs of the Berlin Wall, to the gritty streets of New York. She was inspired to capture the energy and feeling from the streets, and to put it up on canvas, offering each painting to 'become a piece of the bigger picture'.
Rachel Rush
Rachel Rush has been painting and successfully exhibiting in many of Auckland's most prestigious exhibitions and galleries for many years. She loves the freedom of mixing acrylics with resin as there are no hard rules, to watch each piece take on its own vibrancy and energy is a real joy.
1
2
3
4
5
6
7
8
9
10
11
12
13
14
15
·
·
·
·
·
·
·
·
·
·
·
·
·
·
·