Jamie Adamson
Sarah Albisser
Galia Amsel
Jessica Bailey
Dominique Baker
Maria Balan
Josh Bashford
Emma Bass
Katherine Batchelor
Madeline Beasley
Blake Beckford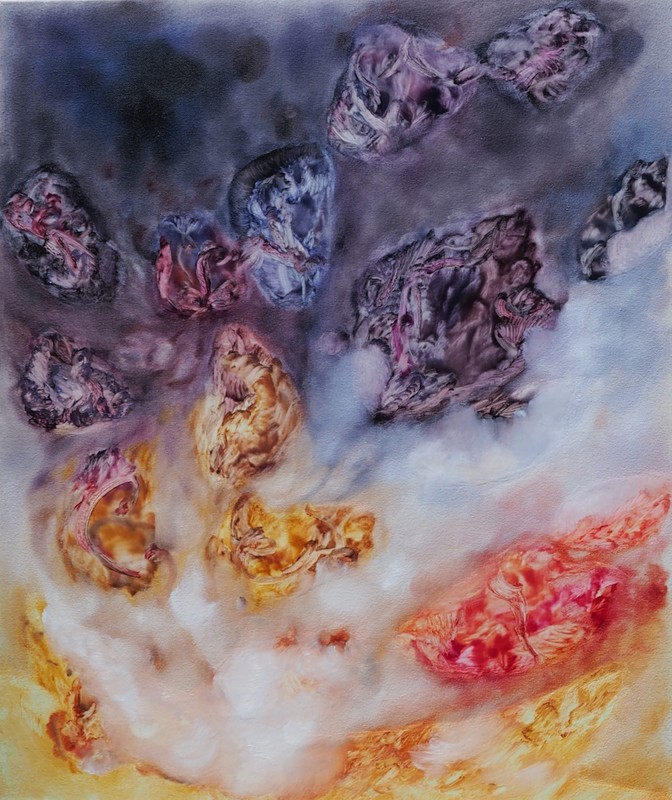 Kate Bedford
Sean Beldon
Fleur Benn
Jamie Adamson
Jamie Adamson's strong interest in working with wood began during his early years, when he remembers joining his grandfather in his workshop and tinkering away with tools to fix and create things. After leaving school, Jamie completed his apprenticeship in the boat building trade which gave him experience working with timber, steel and fibreglass materials.Through boat building Jamie learned patience and the ability to craft a concept into a product that looks aesthetically pleasing. Having recently sold his business, Jamie is now embracing his long-harboured interest in sculpting with wood. Using boat building techniques, he is experimenting and developing his own style of sculpture. For Jamie, wood is a natural pleasure to work with and the process comes from an instinctual space. He enjoys the physicality of the forms he creates, emulating natural shapes, flowing lines, and working with the organic nature of the material.
Sarah Albisser
Sarah Albisser was born in Switzerland. She trained as a contemporary dancer, completing her studies in 1996 in New York. Working as an independent dancer and choreographer she founded the award winning dance theatre company Waterproof in 2001.After receiving a certificate in art from Farbmuehle in Lucerne, Switzerland she immigrated to New Zealand in 2007 where she continued to develop her style and art practice. She has had exhibitions of her work throughout New Zealand, Switzerland and Los Angeles.Sarah captures expressions, feelings, moods and mental states. She finds it fascinating that each of us has our unique way, shown in facial expression, body gesture and overall presence. She prefers not to use images or photos of faces, her portraits are usually developed through improvisation inspired by female characters she has come across.
Galia Amsel
Known for her dramatic cast-glass sculptures, British-born Galia Amsel is one of the leading contemporary glass artists now working in New Zealand. A graduate of the Royal College of Art in London, Amsel relocated her studio and family to the rural edge of West Auckland in 2003. She is internationally recognised for her highly developed understanding of glass, with a visual language uniquely her own.Amsel's sculpture revolves around the central paradox of glass as both a fluid and a solid medium. Through shape, translucence, texture and colour, she conveys her preoccupation with movement, tension and balance and her resulting works manage both drama and subtlety.She has a prolific exhibition history in the United States, England, Europe and Oceania. Her work is represented in numerous international collections including Corning Museum of Glass, USA; Museum of New Zealand Te Papa Tongarewa; Victoria and Albert Museum, London; Ulster Museum, Ireland; and Glassammlung Ernsting, Germany.
Jessica Bailey
Jessica Emily Bailey is a Bachelor of Visual Arts and Design graduate, a specialist arts educator, a musician and an emerging artist in her own right.Jessica's childhood was spent on twenty-one acres of land in the outskirts of Auckland. She was taught by the Mackenzie Hills of the south Kaipara, dredged in the waters of Muriwai Beach then hung out to dry in the plum trees at home. This formative imagery, juxtaposed with the high-key plastic fantastics also evident during her school years, influences her way of working today.In her paintings Jessica tends to draw from everyday objects and scenes, extracting elements of colour, form, texture and tone. Each step depends on the one before, as in a game of dominoes. Layer upon layer to fashion a conversation of painterly arrangements.This particular series talks about using the fluidity of memories to fashion small family portraits out of inks.
Dominique Baker
Dominique Baker is a painter, carver and printmaker, from the North Shore of Auckland. She graduated with a Bachelor of Visual Arts from the Auckland University of Technology in 2008. Baker is of Japanese, Māori and European heritage, which greatly influences her practice. Her work is informed by street art and explores a range of methods to result in visually intricate paintings. These works showcase her recognisable mix of painting and carving style.Chosen to adorn Sir Paul McCartney's room on his recent tour to New Zealand, Baker's works have been commissioned by both local and international collectors.
Maria Balan
Maria Balan is an accomplished artist with more than thirty years of experience covering all aspects of painting and drawing, ranging from landscape oils and abstract acrylics to charcoal. She has successfully shown her work at a number of exhibitions throughout Auckland.
Josh Bashford
Joshua Bashford was born in 1989 and is of Pakeha and Samoan descent. He gained a Bachelor of Fine Arts (Hons) from the University of Canterbury in 2012. He lives and works near Little River on the Banks Peninsula, southeast of Christchurch. Many of the motifs in his work - rivers, roads, fish and birds are inspired by his connection to the landscape surrounding his home territory.Josh was selected as a finalist in the 25th Annual Wallace Art Awards in 2016.
Emma Bass
Emma Bass is a New Zealand based international artist whose photographic floral artworks are in corporate and private collections worldwide.Emma has established a strong following with her 'Imperfect' series. These photographic works are lusciously seductive, but close up the floral compositions deliver a sharp bite of reality. It's here that Emma's interest in the transient nature of beauty and a world too obsessed with perfection are explored. These portraits of flora 'on the turn' honour the beauty of the imperfect and the homely.She has exhibited at a number of galleries, including London's prestigious Royal Academy, and recently the Daniel Raphael Gallery in London's Marylebone.
Katherine Batchelor
Katherine Batchelor is a 3D mixed media artist who graduated from Hungry Creek Art School in 2006 and NorthTec in 2016.As a mixed media artist Katherine works predominantly with objects; found and created. She sees them as loaded with histories, containing traces of residual emotions and symbolism. Katherine grew up in post-war NZ where the craft involved in creating handmade objects was valued. She enjoys combining a variety of materials in her art, exploring the differences in their material languages. Katherine believes that through installation and assemblage, the juxtaposition of created and found objects can portray an emotional response and sense of human interaction more effectively than the spoken word.
Madeline Beasley
Madeline Beasley is one of New Zealand's most exciting and original contemporary artists. She was born in England and moved to New Zealand in 1968. Madeline has designed graphics, worked as a court artist for Television New Zealand, and illustrated several children's books. In 1990 she began exhibiting her paintings around Auckland galleries. Her works are influenced by early Christian, Byzantine and medieval iconography, and are cut out of custom wood then painted in oils. Madeline is interested in people having their own symbolic guardian angel, and sees her paintings as protecting and empowering images.
Blake Beckford
Blake Beckford's work is straight to the point. Sharp lines and tonal variations of vibrant colours are used to create simple but simultaneously intricate works of art. Pieces often contain several painted panels packed out from behind to give a 3D floating appearance. A contrasting background colour slices through, separating the foreground panels. This ties the works together in a fantastic alignment of colour, angles, edges, and aesthetics.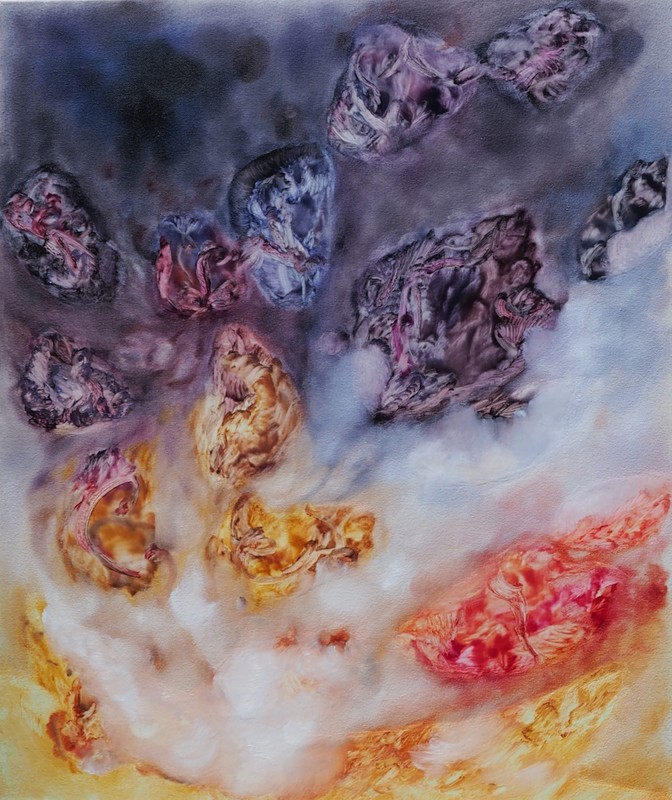 Kate Bedford
Kate Bedford is an Auckland based artist currently doing her masters at Elam School of Fine Arts. She has been painting for well over 10 years and has exhibited in shows around the country. Her paintings are mainly inspired by the natural world which she perceives as cosmic landscapes; they draw upon mythologies, cosmology and ecology. Kate paints from a spiritual connection to nature and from a place of unknowing as each painting reveals itself through the process. The use of raw canvas and linen engages with different surface qualities where parts are highly detailed and sharp against soft atmospheric backgrounds.
Sean Beldon
Sean Beldon lives in the Eastern Bays of Auckland. He paints in an expressive and sometimes explosive manner. Sean's landscapes are inspired by his photographic compositions, and although almost abstract, a little bit of true realism is always present. Brush strokes are large and impulsive and the mood of the piece is created by strong colours, exaggerated for effect. At other times his paintings are subtle and the colours are luminous and soft, with quiet composition.As well as landscape painting, Sean also enjoys creating figurative narratives centred around themes derived from his personal life and the world around him.
Fleur Benn
Fleur Benn's choice of subjects and mediums may vary, but her passion for capturing the essence of the characters she is drawn to remains a constant objective. The animals or humans she depicts often incite the viewer to go out of their comfort zone - to re-consider concepts of beauty and to celebrate the unconventional.Fleur has exhibited throughout New Zealand in both solo and group exhibitions.
1
2
3
4
5
6
7
8
9
10
11
12
13
14
·
·
·
·
·
·
·
·
·
·
·
·
·
·